Certification Ongoing Support
Have you achieved your Certification to one or more ISO Management System Standards, but are not sure what's required to maintain it?
Book in a FREE Strategy Session to find out how we can take the pressure off you by helping with the ongoing activities!
What's involved in maintaining Certification to an ISO Management System Standard?
Once Certification is achieved, the 3-year cycle starts. This means that every year your Certifier will come back to audit again and check in if your system is still up to date and all ongoing activities required are completed and documented.
Throughout this process, we can help you to maintain your certification by assisting you and your team with these required activities.
Download our FREE Certification Ongoing Process Diagram flowchart to understand what's involved in maintaining your ISO Certification!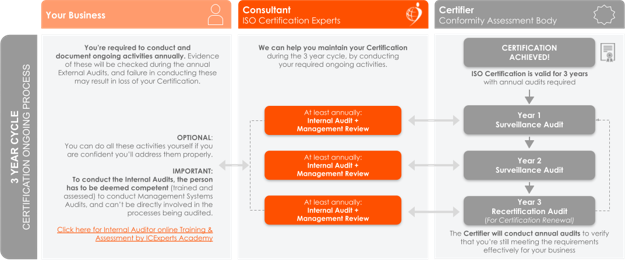 Get your FREE Certification Ongoing Process Diagram today!
What are the benefits of Ongoing Certification Support?
Save time and resources
Clear your team's workload, while also ensuring your Management System is still operating effectively with our expert consultants looking after it.
Always be audit ready
We will manage your internal audit program to ensure all your Management System and Certification ongoing requirements are met prior to your external audits.
Unbiased perspective
Benefit from getting expert, objective, and unbiased feedback regarding your Management System for continual improvement.
Ready to get started?
Book a FREE Strategy Session with us to discuss the best approach for your business, understand the benefits for your organisation, and find out how we can best help you achieve your goals!