How to achieve Certification in 12 weeks… Guaranteed!
Published on: February 26, 2019
This month ISO Certification Experts turns 12!
To celebrate, we've decided to give you a gift – an eBook – How to achieve Certification in 12 weeks… Guaranteed!
The entire ISO Certification Experts team has contributed to the creation of our ebook. It explains, in simple language and with step-by-step instructions, how to develop and implement an effective management system for your business and achieve ISO Certification for your business in just 12 weeks!
The ebook starts with the 12 Steps to Achieving Certification diagram, which presents the entire process in a single wheel. It shows the management system development and ISO Certification readiness process in 12 steps – which we've split into 12 chapters over 12 weeks.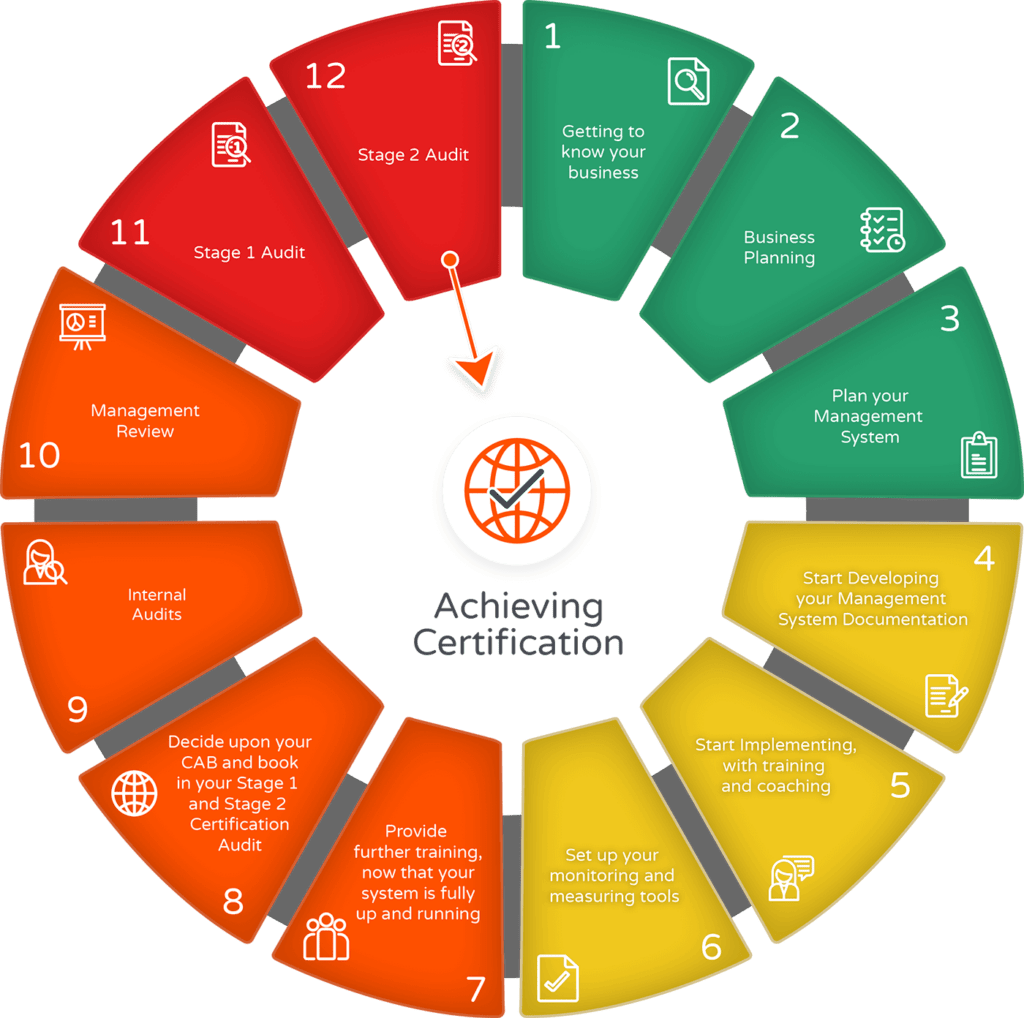 The Forward and Introduction describe a bit of necessary pre-work, along with some essential pre-reading before you get started. This includes some basic terminology and definitions, and what you need to do before you start the process, such as:
As already mentioned, each of the 12 chapters in the book represent a step in the certification readiness process for your business. Let's take a look at the table below which provides a brief description of each chapter:
Chapter
You will learn how to….
Week 1: Getting to know your business
• Work out where you're starting from
• Conduct an initial Gap Analysis of your existing management systems
• Identify the interested parties to your business and their requirements in relation to your management system
Week 2: Business Planning
• Conduct PESTEL Analysis, SWOT Analysis, and Risk Assessment
• Develop an Objectives and Targets Management Plan
• Define the core business processes, their sequence and interactions
Week 3: Plan your management system
• Plan out your management system
• Define the structure of your management system
Week 4: Start developing your management system documentation
• Start developing your management system documentation
• Understand the content required
Week 5: Start implementing, with training and coaching
• Ensure the management system documentation accurately reflects day-to-day operations
• Ensure that all workers are familiar and confident in working with your new management system
Week 6: Set up your monitoring and measuring tools
• Define the elements for monitoring and measuring the business processes
• Implement effective techniques for data analysis and evaluation
Week 7: Provide further training, now that your system is fully up and running
• Effectively train and coach all individuals in the new management system and know which topics to include at this stage
Week 8: Decide upon your CAB and book in your Stage 1 and Stage 2 Certification Audit
• Select a Conformity Assessment Body (CAB) to best suit the needs of your business
Week 9: Internal Audits
• Plan and schedule your internal audits
• Select your Internal Auditor(s)
• Define the audit criteria
• Conduct an internal audit and prepare the audit report
• Close out the audit findings
Week 10: Management Review
• Understand the objectives of a management review
• Define the management review inputs and outputs
Week 11: Stage 1 Audit
• Plan for the Stage 1 Audit
• Understand what's covered in the Stage 1 Audit
• Define a major or minor non-conformance
• Understand an opportunity for improvement
Week 12: Stage 2 Audit
• Plan for the Stage 2 Audit
• Understand what's covered in the Stage 2 Audit
• Understand the process of addressing non-conformances raised during the Stage 2 Audit
The Conclusion is that your business will achieve Certification in 12 weeks! It also talks about being mindful that achieving ISO Certification is not the end of the process – it's the beginning of your continual improvement journey! This last section then goes on to explain the three-year certification cycle and how the annual external audits work.
In this blog, we've summarised the key elements of our eBook – How to Achieve Certification in 12 Weeks… Guaranteed! We hope you enjoy it, and use it as a guide, following the 12 steps to ISO Certification for your business in 12 weeks!
You may already have a designated person in your business who's experienced and competent to take responsibility for your management system development, which is great! However, if you find it all too much to manage with your existing workload, ISO Certification Experts are here to help with the development and/or continual improvement of your management system. We can facilitate the entire process with your team and lead you through the whole process, or just come in to conduct your ongoing internal audits. Whatever level of support you need, we're here to help.
Erica is the Managing Director of ISO Certification Experts and ICExperts Academy. She has been helping businesses with their ISO Certification needs for over 20 years. Erica is also a Certified trainer, implementer and auditor for the ISO 9001, ISO 14001, ISO 45001 and ISO 27001 standards. Erica primarily heads up the day-to-day operations of the businesses, and is also a current member of the Standards Australia Committees: QR-008 Quality Systems and ISO 9001 Quality Management Brand Integrity.
All information on this blog site is for informational purposes only. As this information is based on our professional experience, opinion, and knowledge, we make no representations as to the suitability of this information for your individual business circumstances. Especiality Pty Ltd trading as ISO Certification Experts and all related businesses and brands will not be liable for any errors, omissions, legal disputes or any damage arising from its display or use. All information is provided as is, with no warranties and confers no rights.
We will not be responsible for any material that is found at the end of links that we may post on this blog site. The advice, ideas, and strategies should never be used without first assessing your own personal business situation or seeking professional and/or legal advice. Information may also change from time to time to suit industry and business needs, requirements and trends.