Certification Readiness
Our tailor-made management systems will get you certified the first time.
Speak to one of our experts about our Certification Readiness Guarantee today!
What Does ISO Certification Mean?
"ISO Certification" is the term commonly used to explain that your Business Management System is certified to one or more International Standards, also known as ISO Standards.
Businesses certified to ISO Management System Standards operate Business Management Systems which are recognised and valid all around the world.
Who Certifies your Business?
Even though most people say "ISO Certification", ISO does not provide any kind of Certifications. All developed countries and most developing countries have Accreditation Bodies that are either part of governments or recognised by governments. In Australia and New Zealand, the governments established the Joint Accreditation System of Australia and New Zealand (JAS-ANZ) for the accreditation of Conformity Assessment Bodies (CABs). The CABs are the entities that ultimately audit and certify organisations' management systems, products or persons in their region, and elsewhere in the world.
What ISO Certification Experts Does
ISO Certification Experts provides consultancy services to get your business Certification Ready. We can assist you in creating management systems according to your business resources and requirements that will get you certified the first time.
What is ISO?
ISO (the International Organisation for Standardisation) is an independent, non-governmental organisation, based in Geneva, Switzerland.
ISO Standards are documents that provide requirements, specifications, guidelines or characteristics that can be used consistently to ensure that materials, products, processes and services are fit for their purpose.

Certification Readiness Guarantee
We are extremely passionate about delivering the most effective management solutions to each business. As a result, every business we have taken through our proven process has achieved Certification first time! Based on our proven framework and methodologies, we guarantee results.
Please note ISO Certification Experts is not an Accredited Conformity Assessment Body. We're a consulting and training business, and we do not conduct Third Party Audits to achieve certification to the requirements of a specific ISO Management System standard. Our role is to assist you in achieving ISO Certification Readiness and Business Process Improvement. No single organisation is allowed to do both the consulting and the certification parts of your project, as this is a conflict of interest and not meeting the ISO governing rule requirements.
Do I need to be ready for ISO Certification?
Yes. Your business needs to meet all requirements of the ISO Management System Standard(s) you're aiming to achieve Certification to, as relevant to your business operations.
Your business operations and your documented information need to meet the specific ISO Management System Standard(s) requirements.
It's a good idea to purchase the ISO Management System Standard(s) documents as soon as possible, and review the requirements to gain an initial understanding of what you're working towards. All ISO Standards are available for purchase from the SAI Global Infostore. (You'll need to purchase the Standard(s) that you go for Certification to anyway, to have in your business Reference Library – the Certification Auditor will often check you have a correctly licensed version as part of the initial Certification Audit process).
I've reviewed the ISO Management System Standard(s) requirements. What now?
After you've reviewed the requirements, why not take advantage of our FREE 1 Hour Strategy Session to get clarity on the Certification Readiness process? This is your chance to get all your questions answered!
Certification Readiness process
Our approach to the Certification Readiness Process is broken down into 3 Phases. We can tailor our service for you depending on your needs. The infographic shows the steps of the entire process.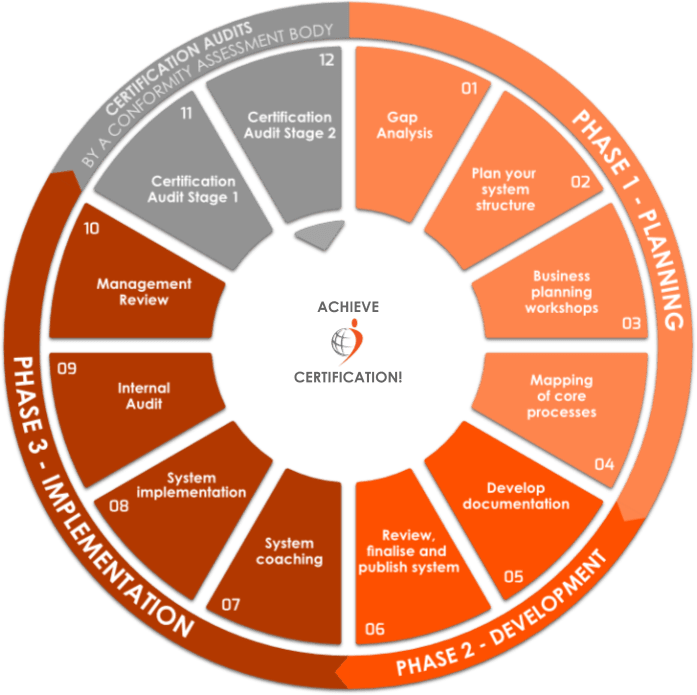 Get your FREE Certification Readiness Process Diagram today!
The ISO Standards we can help you with
Ready to get started?
Book a FREE Strategy Session with us to discuss the best approach for your business, understand the benefits for your organisation, and find out how we can best help you achieve your goals!