Certification Process
Understand the process of achieving and maintaining Certification to an ISO Management System Standard, and how our consultants can assist you.
What's involved in becoming Certified to an ISO Management System Standard?
To achieve Certification, you are required to develop and implement a Management System that meets the requirements of one or more ISO Management System Standards prior to going for your Certification (External) Audits with a Certifier.
Our role as the ISO expert consultants is to help you develop and implement your Management System, including your Internal Audits, to get you up to the point where you'll be ready for the Certification Audits with your chosen Certifier. By choosing us to help you with this process, we guarantee you'll achieve your Certification on the first attempt!
Once you achieve your ISO Certification, the 3-year cycle of ISO Certification Maintenance starts. We can also help you throughout this process to effectively maintain your Certification to an ISO Management System Standard.
Download our FREE Certification Process diagram to understand the steps required throughout the entire process!
Get your FREE Certification Process Diagram today!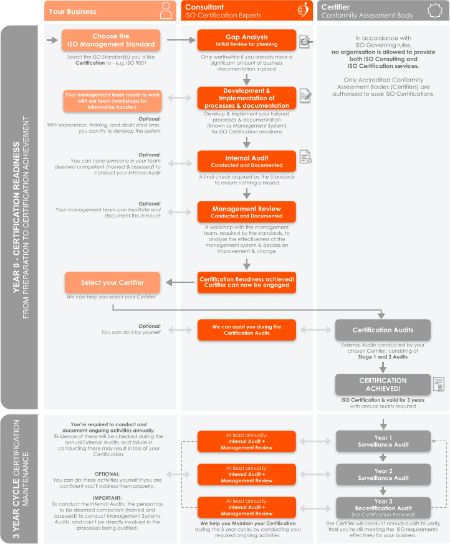 Why should my business get Certified to an ISO Management System Standard?
The key reasons to become certified could be any one or more of the following:

Qualify for more tenders, contracts and international trade

Increase and improve brand reputation to boost stakeholder confidence

Improve business planning and align with organisational strategy

Higher profit margins and reduced costs through improved efficiencies

Improve business structure and standardise systems for sustainable growth
The ISO Standards we can help you with
Ready to get started?
Book a FREE Strategy Session with us to discuss the best approach for your business, understand the benefits for your organisation, and find out how we can best help you achieve your goals!