Why should my business get ISO Certified?
The key reasons to become certified could be any one or more of the following:

COMPETITIVE ADVANTAGE
An existing major customer might require you to achieve ISO Certification

IMPROVED STAKEHOLDER TRUST
ISO Certification can help improve your marketing edge or boost the confidence of your customers

BUSINESS GROWTH
Strengthen your management systems, bringing more clarity and transparency

IMPROVED BUSINESS SUSTAINABILITY
In some cases, ISO Certification can reduce insurance premiums

REDUCED COSTS
Reduce cost with more consistent processes and less rework

TENDER REQUIREMENT
ISO Certification could be part of tender pre-qualification requirements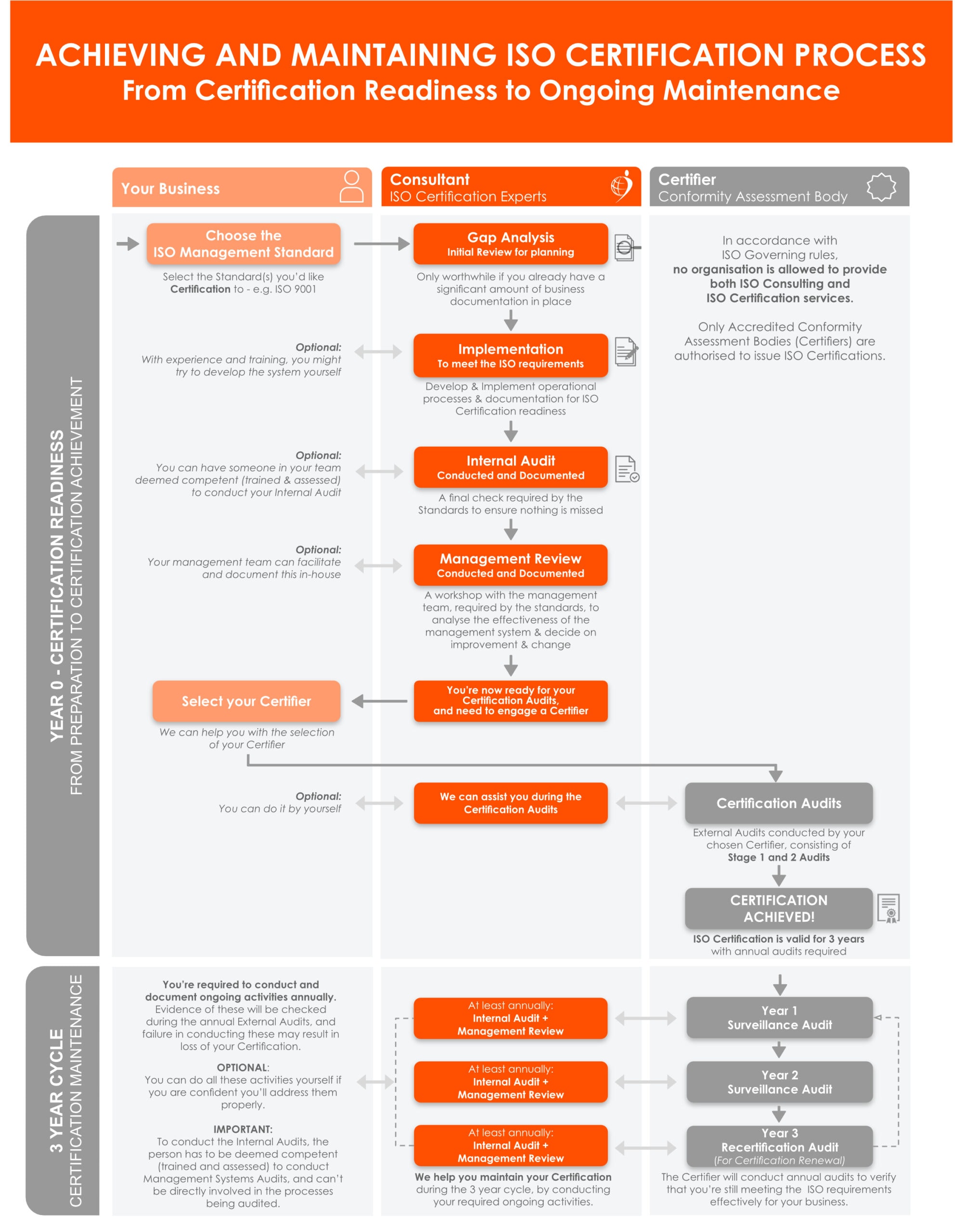 What's involved in becoming ISO Certified?
To achieve an ISO Certification, you are required to develop and implement a compliant ISO Management System prior to going for your Certification (External) Audits with a Certifier.
Our role as the ISO expert consultants is to help you develop and implement your Management System, including your Internal Audits, to get you up to the point where you'll be ready for the Certification Audits with your chosen Certifier. By choosing us to help you with this process, we guarantee you'll achieve your Certification on the first attempt!
Once you achieve your ISO Certification, the 3-year cycle of ISO Certification Maintenance starts. We can also help you throughout this process to effectively maintain your ISO Certification.
Download our FREE Certification Process diagram to understand the steps required throughout the entire process!
If you have any questions about the process, or want to discuss how we can assist you in your ISO Certification Journey, book a no-obligation FREE 1-Hour Strategy Session with one of our experts!
The roles involved in achieving and maintaining your ISO Certification

The 3 year cycle of achieving and maintaining ISO Certification

The required activities to maintain ISO Certification
The Main Standards We Work With
We work with all core Management System Standards across all industries and sizes of organisations, so we tailor our services to suit your business requirements and resourcing needs.

Quality Management Systems

Occupational Health and Safety
Management Systems

Environmental Management
Systems
Information Security Management Systems