Our first conversation with people often identifies they don't know where to start when developing a Business Management System, whether it be to improve the efficiency and effectiveness of their business operations for sustainable growth, or for the purpose of achieving ISO Certification to one or more Management Standards.
In some cases, they've made a start, and have then gotten to a point where they don't know what to do next, or they're not sure how to bring it all together. We'll work with you to determine exactly which Standard/s (and Certification/s) are right for the needs of your business. Then, together we'll determine exactly what it is that you want to achieve out of the process, along with any deadlines you might need to achieve Certifications by. This is your chance to get all your questions answered!
We'll go through what you already have in place and how effective you think it is, and what you'd like to see change.
Depending on what you already have, the next step might be a Gap Analysis against the requirements of the Standard/s – this will give us a to-do list of what needs to be done before commencing the formal Certification process.
We can act as your in-house Systems Manager, or we can simply consult with and coach your team through the process.
We work with all industries and all sizes of organisations, so we're used to adjusting our services to suit your resources and business requirements.
Need advice with your CDIC
Core Action Plans?
The Centre for Defence Industry Capability (CDIC) supports Australian businesses entering or working in the Defence industry.
If your business is in the Defence space and applying for grant assistance, we can help with implementation of your CDIC Advisory Service Report Core Action Plans, when they relate to ISO Certification Readiness and a Continuous Improvement framework for your business.
What are the Benefits of
ISO Consulting for Your Business?

VALUE CREATION
Systemise and grow your business with structure and increase its value

RISK REDUCTION
Identify and act on business risk and opportunities through our expert facilitated business planning process

TIME EFFICIENCY
Let us take care of your ISO Planning and Management activities while you focus on your business as usual

CONTINUOUS IMPROVEMENT
Improve your business operations, business processes and overall business performance

EXPERT ADVICE
Instant access to our extensive knowledge in ISO management systems and business in general

ISO CERTIFICATION GUARANTEE
When you select our Premium service ISO Consulting option, we guarantee you will achieve ISO Certification first time
ISO Certification Readiness Process
The ISO Certification Readiness Process is broken down into 3 Phases. We can tailor our service for you depending on your needs. This is then followed by Stage 1 and Stage 2 Audits conducted by an Accredited Conformity Assessment Body. The infographic shows the steps of the entire process.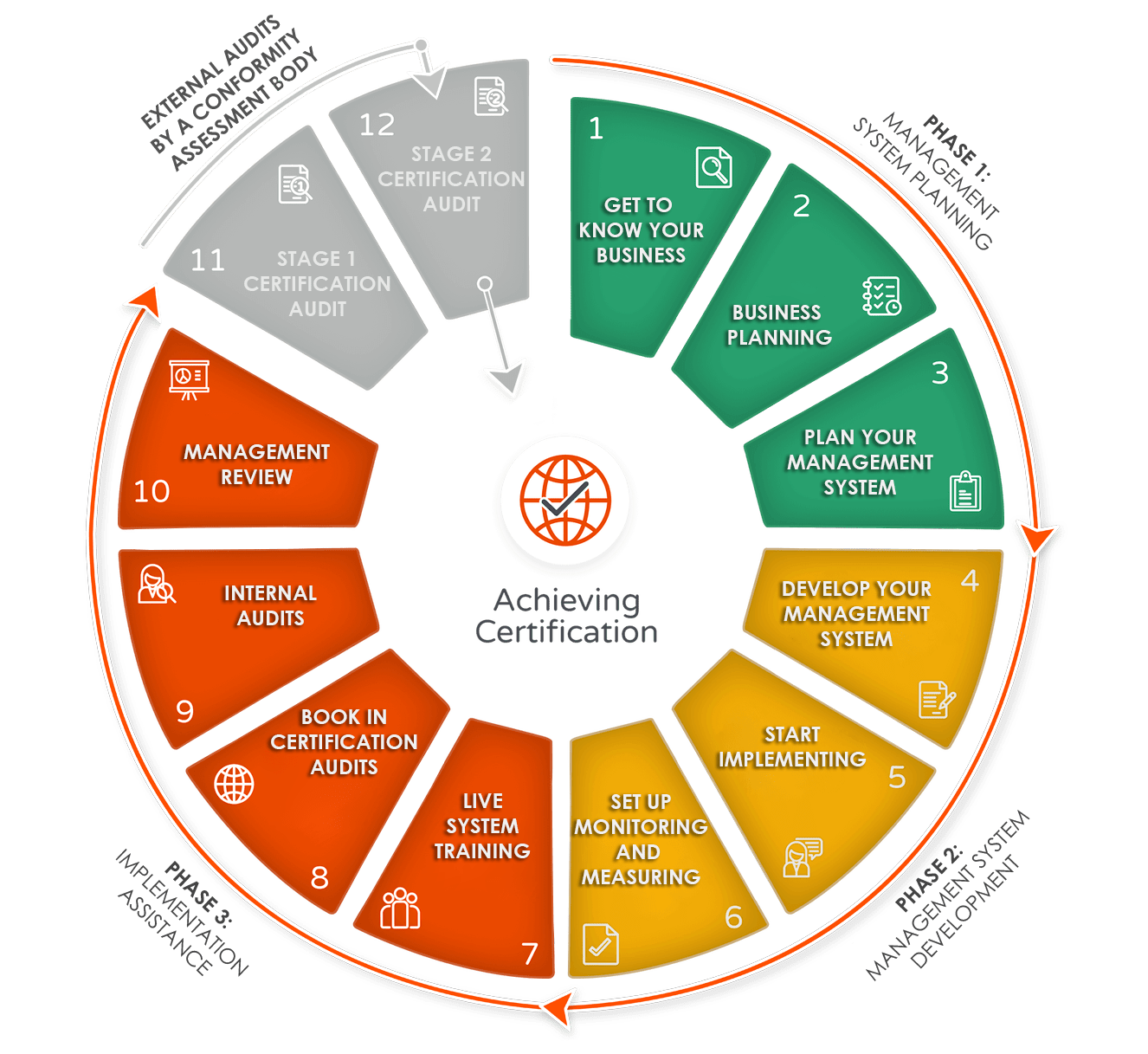 The Main Standards We Work With
We work with all core Management System Standards across all industries and sizes of organisations, so we tailor our services to suit your business requirements and resourcing needs.

Quality Management Systems

Occupational Health and Safety
Management Systems

Environmental Management
Systems
Information Security Management Systems
How We Can Help
Your personal Consultant gets to know you, your business, and what you need to achieve out of your systems and your ISO Certifications.
We take care of the whole process for you, answer all your questions and adjust our services to suit your resources and your individual business needs. We'll be there for you to coach you through the preparation, through the audits and ongoing.
We assist in selecting your Conformity Assessment Body (CAB) to ensure they have the appropriate knowledge of your industry and the work you do, are realistic and take a value-adding approach.
We understand that every business is unique – we want this to be a meaningful and value-adding process for you.