Internationally Recognised
Learn to perform an Information Security Management Systems audit
The ISO/IEC 27001 Lead Auditor eLearning training course will give you the necessary skills and knowledge to plan and perform Information Security Management System (ISMS) internal and external audits by applying widely recognized audit principles, procedures and techniques.
Developed and delivered by PECB (accredited by the International Accreditation Service – IAS), this training course will add incredible value to your career and professional profile by offering worldwide recognised certification.
Get Qualified to
Carry out internal and external audits in compliance with ISO 19011 and ISO/IEC 17021-1 certification process

Plan and lead an audit, draft reports, and follow-up on an audit in compliance with ISO 19011

Manage an audit program, audit team, communicate with clients and resolve potential conflicts

​​Interpret the requirements of ISO/IEC 27001 in the context of an ISMS audit

Understand the operations of an Information Security Management System based on ISO/IEC 27001

Acknowledge the correlation between ISO/IEC 27001, ISO/IEC 27002, and other standards and regulatory frameworks
Are you ready to become an ISO 27001 Lead Auditor?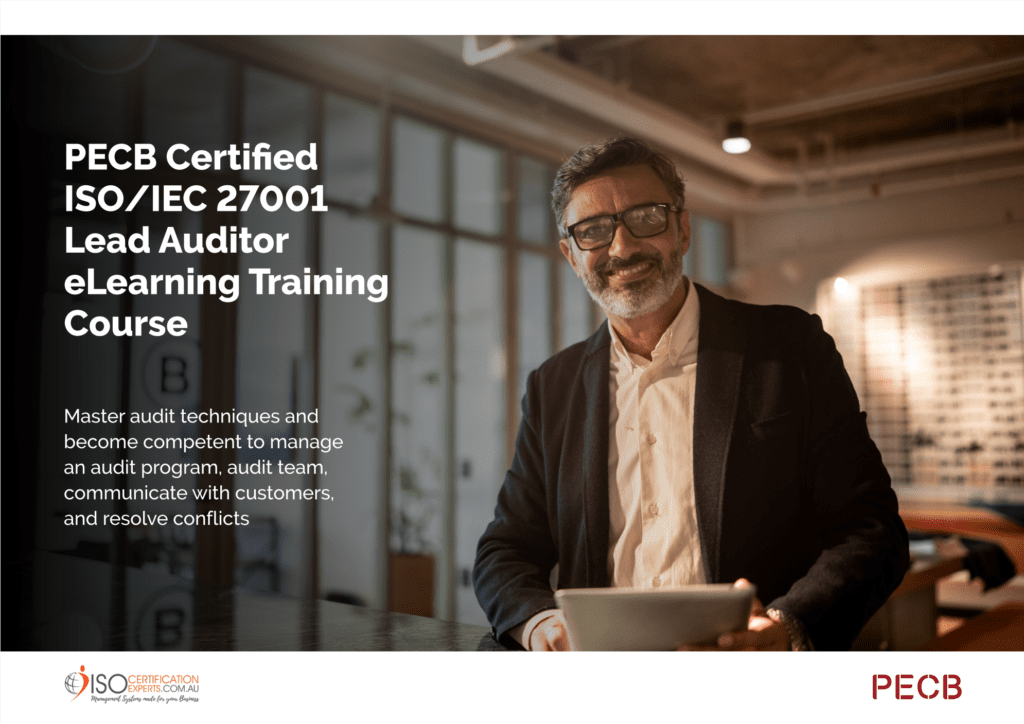 Who Should Attend
Auditors seeking to perform and lead Information Security Management System (ISMS) certification audits

Managers or consultants seeking to master an Information Security Management System audit process

Individuals responsible for maintaining conformance with Information Security Management System requirements

Technical experts seeking to prepare for an Information Security Management System audit

Expert advisors in Information Security Management
Certification
After successfully passing the exam, you can apply* for one of the credentials below depending on your proven experience. You will receive the certificate once you comply with all the requirements related to the selected credential.
* Your first certification application fees are included in the course price. After that, you must renew your certification yearly.
For more information about ISO/IEC 27001 certifications and the PECB certification process, please refer to the Certification Rules and Policies.
Educational Approach

Content Delivery: This training course consists of several video sections. In addition to having the training course content in video format, you will also be able to access the training course material containing over 450 pages of explanatory information, examples, best practices, exercises, and quizzes.

Course Duration: The course is self-paced, meaning you can do it in your own time. The 24/7 access to the course material allows you to go back to any section as you need. We recommend allowing at least five (5) days – approximately 35 hours to complete the course material, quizzes and the final exam.

Evaluation Process: The PECB Certified ISO/IEC 27001 Lead Auditor final exam covers seven competency domains and meets the requirements of the PECB Examination and Certification Program (ECP)*. The exam consists of 80 multiple choice questions, and a 70% passing grade is required. In case candidates fail the exam, they can retake it within 12 months following the initial attempt for free. After that, fees will apply for additional attempts.

Certificates: There are four credentials you can achieve with this course, depending on your proven experience.
Technical Requirements
This training course is delivered via a PECB training app called KATE.
All you need in order to access this training course is:
A device (e.g., computer, tablet, or smartphone).

Working internet access to connect the device to with a minimum speed of 5Mbps (recommended).

Download and install the KATE application. The app is compatible with the following operating systems:

DESKTOP

: Windows 10/11, Mac OS X

MOBILE

:

iOS, Android
Questions? Contact us!
If you'd like more details about the ISO/IEC 27001 Lead Auditor Training course or need help to enrol, please don't hesitate to reach out to our team.