What is a Management System? What does it mean?
Published on: April 21, 2021
This is one of the most frequently asked questions by our prospective clients, and, although it's not easy to explain, it's one of the best things that can be done to run a successful high quality business.
In this blog we'll aim to clarify what it means to have an established and successfully implemented Management System in your business, ready for Certification to the most common internationally recognised ISO Management System Standards, such as ISO 9001 for Quality Management, ISO 14001 for Environmental Management and ISO 45001 for Occupational Health and Safety Management.
A Management System is a framework of policies, processes, procedures, templates, and other relevant documents that an organisation implements in order to run the business towards its objectives and goals.
When it comes to meeting the requirements of one or more ISO Management System Standards, the business Management System needs to follow and conform to the requirements of one or more Standards. For instance, the ISO 9001 Quality Management System Standard is a set of quality management best practice requirements that a business needs to conform to in order to achieve ISO 9001 Quality Certification. This results in your business becoming acknowledged as running in accordance with an internationally recognised quality standard.
To give you an idea of what's required, a Management System in a small to medium sized organisation can simply be established as an electronic folder structure saved on your server or on the cloud, consisting of sections such as:
Larger organisations can sometimes have these items (e.g. policies, procedures, templates, etc) already embedded as part of their particular operational software tools that are in place across the business.
It's important to understand that an effective Management System doesn't just mean writing policies and procedures – it's about aligning the documented information with the goals of the business, with effective and consistent implementation to create a business framework for continual improvement.
What policies, procedures, templates, and business planning documentation does my business need?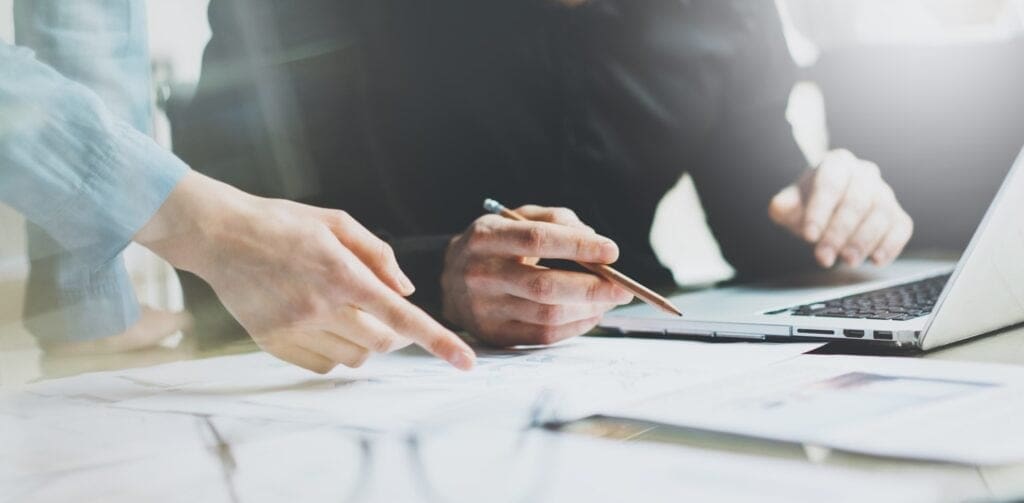 This depends on the ISO Management System Standard(s) you decide to implement in your business, and also on what the organisation does and its needs – the way you run your business. For example, if a manufacturing firm wants to achieve Certification to the requirements of the ISO 9001:2015 Quality Management Systems Standard, they will need to develop and implement a number of documents that reflect the way they operate, such as:
How can these documents and processes be implemented in my business?
Every policy and procedure should be effectively implemented in the business.
But what does the effective implementation of the company processes mean?
It means that the developed policies and procedures are assigned to a respective responsible person, who ensures the process is correct (according to the relevant ISO Standard and to the way the business operates) and that it is effectively implemented. ie. Our Management System achieves what we need it to and we are doing what our management system says we do.
Let's take a look at a couple of examples:
A procedure about external providers should explain how the company assesses, selects, and evaluates the performance of their external providers (i.e. suppliers, contractors, outsourced activities). In order for these procedures to be effectively implemented, the organisation should also be able to show evidence, such as the assessments of critical external providers, documented reference checks, signed supplier/contractor agreements, and regular records/documented evidence of their performance evaluation throughout the year.
Why do we do this?
To ensure that our external providers meet our requirements on an ongoing basis and, where they're involved in providing products and/or services to our customers, we're certain they'll meet our quality standards and our customer requirements.
Another good example is the implementation of Human Resources (HR) processes. In the HR procedure, the process regarding onboarding new employees should be explained with reference to the induction process including the necessary forms, training and competency documents, review responsibilities, etc. The relevant templates and/or registers should be kept in the designated locations. Implementation of this process can be demonstrated through records of employee inductions, competency assessments, training certificates, staff performance reviews and the currency of any related registers that hold related information.
Why do we do this?
To ensure our employees who are delivering our products and/or services to our customers have the appropriate training and competency to meet our customer requirements, on an ongoing basis.
How can we help you to develop and implement an effective Management System?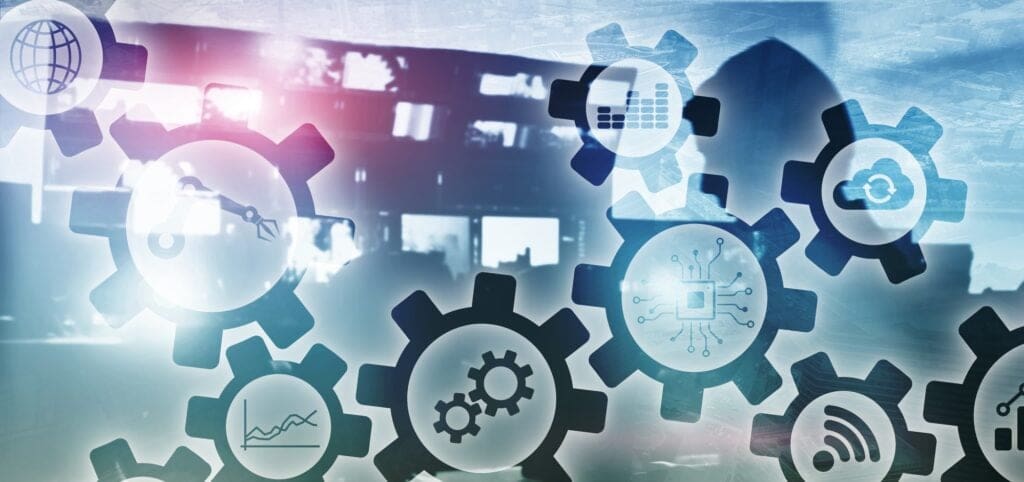 The ISO Management System Standards are quite flexible and don't specify exactly which documents you need to have in place to successfully meet the requirements. This is quite beneficial because it means each organisation can develop their Management System to meet their own operational requirements, to suit the way they run their business. However, without the knowledge of the ISO Management System Standards and experience in implementing the requirements, this can become challenging.
Our ISO Certification Experts team specialise in developing Management Systems and improving structures that are customised for each client organisation and are then further verified by the external auditors.
We divide the project for Management System development and implementation into three phases, as shown below: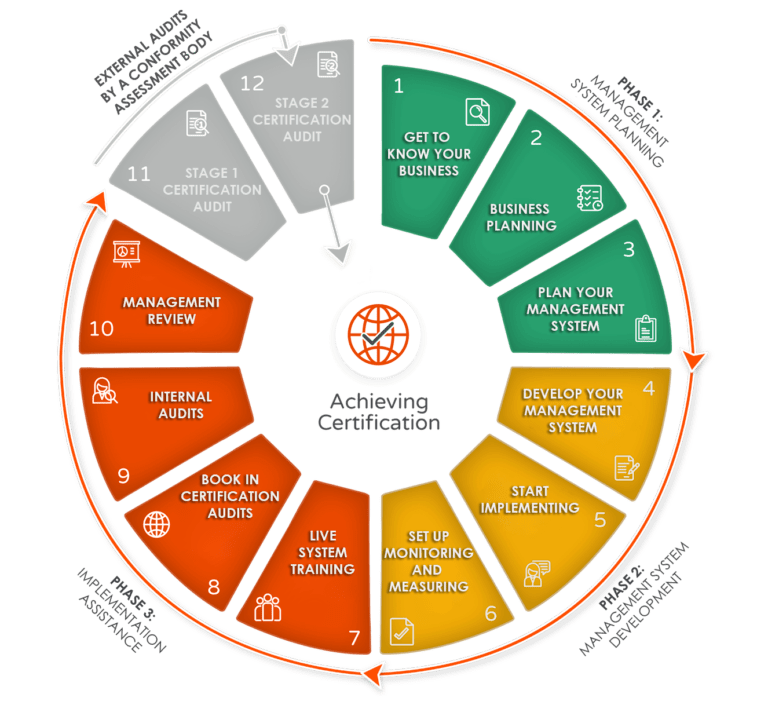 After all that, your system should be ready to successfully go through the external audits, with the outcome of achieving ISO Certification (issued by your chosen Conformity Assessment Body) – Phase 4 in the infographic above.
Since we started the business in 2007, every company that has followed our recommendations has achieved certification first time, and, as a result, we offer a Certification Readiness Guarantee – by following our proven planning process and advice, supported by our extensive industry experience, we can get you certified first time – Guaranteed!
Ivona has been developing and implementing customised management systems for our clients across a wide range of industries, to meet the certification-readiness requirements of ISO 9001, ISO 14001 and ISO 45001. She is also an internal auditor, and has a Master of Business Administration and a Diploma in ISO Integrated Business Management Systems. She's also passionate about sustainability and the environment.
All information on this blog site is for informational purposes only. As this information is based on our professional experience, opinion, and knowledge, we make no representations as to the suitability of this information for your individual business circumstances. Especiality Pty Ltd trading as ISO Certification Experts and all related businesses and brands will not be liable for any errors, omissions, legal disputes or any damage arising from its display or use. All information is provided as is, with no warranties and confers no rights.
We will not be responsible for any material that is found at the end of links that we may post on this blog site. The advice, ideas, and strategies should never be used without first assessing your own personal business situation or seeking professional and/or legal advice. Information may also change from time to time to suit industry and business needs, requirements and trends.