5 Business Growth Benefits when implementing ISO Management System Standards
Published on: September 22, 2023
In the fast-paced realm of modern business, continual improvement is imperative for all organisations. Whether you run a startup business or large multinational organisation, there is no denying continual improvement to remain relevant and stay ahead. Amid intense competition, technological shifts, and economic uncertainties, thriving demands more than survival — it necessitates growth.
Business growth is essential in this context, as it enables businesses to remain healthy and profitable. Without growth, businesses risk becoming stagnant, losing market share, and eventually becoming irrelevant.
While the path to growth may appear multifaceted and challenging, one avenue that holds immense promise is the implementation of ISO Management System Standards. Despite initial perceptions of implementing these standards being a demanding and resource-intensive endeavour, the dividends it offers are substantial and far-reaching. Achieving an ISO Management System Certification is more than a mere recognition; it signifies an unwavering commitment to quality, efficiency, and customer satisfaction.

In this blog, we will explore the top five business growth benefits of implementing one or more ISO Management System Standards, and how they can help businesses achieve long-term success.
5 Business Growth Benefits of ISO Certification
1. Improve efficiencies of processes
ISO Management System Standards are designed to establish a structured and efficient approach to various business processes. By adhering to these standards, organisations can identify bottlenecks, eliminate redundancies, and improve their overall flow of operations. This streamlining of processes leads to increased productivity, reduced operational complexities, and shorter lead times. As a result, businesses can deliver products and services more efficiently, enhancing customer satisfaction and loyalty.
2. Higher profit margins and reduced costs
Efficient processes and optimised resource utilisation directly impact an organisation's bottom line. ISO standards emphasise cost control, waste reduction, and effective resource management, ultimately leading to reduced operational costs. Furthermore, by implementing standards that focus on quality and risk management, businesses can minimise costly errors and product defects. As operational costs decrease and product quality improves, organisations can experience higher profit margins and enhanced financial performance.
3. Qualify for more tenders and contracts
Many government agencies and large corporations require suppliers and partners to meet specific standards before awarding contracts or tenders. Implementing ISO Management System Standards positions a business as a reliable and capable partner. Organisations with ISO Certification demonstrate their commitment to quality, compliance, and continual improvement. This enhanced reputation increases the likelihood of qualifying for lucrative contracts and partnerships, expanding the organisation's revenue streams.
4. Facilitate continual improvement
ISO Management System Standards are rooted in the concept of continual improvement. They encourage organisations to establish processes for an ongoing assessment, review, and enhancement of their operations. By fostering a culture of continual improvement, businesses can adapt to changing market conditions, customer needs, and technological advancements. This agility allows organisations to stay ahead of competitors and seize new opportunities, driving sustainable growth over time.
5. Improve the business structure and standardise systems for sustainable growth
ISO standards provide a structured framework for establishing consistent and standardised business processes. This standardisation is crucial for healthy and consistent business growth, as it ensures that the organisation's operations are scalable and adaptable. As the business expands, standardised processes facilitate smoother onboarding of new employees, easier replication of successful practices, and seamless integration of acquired entities. The result is a stronger and more resilient business structure that can support long-term growth objectives.
Additional benefits of the four main ISO Management System Standards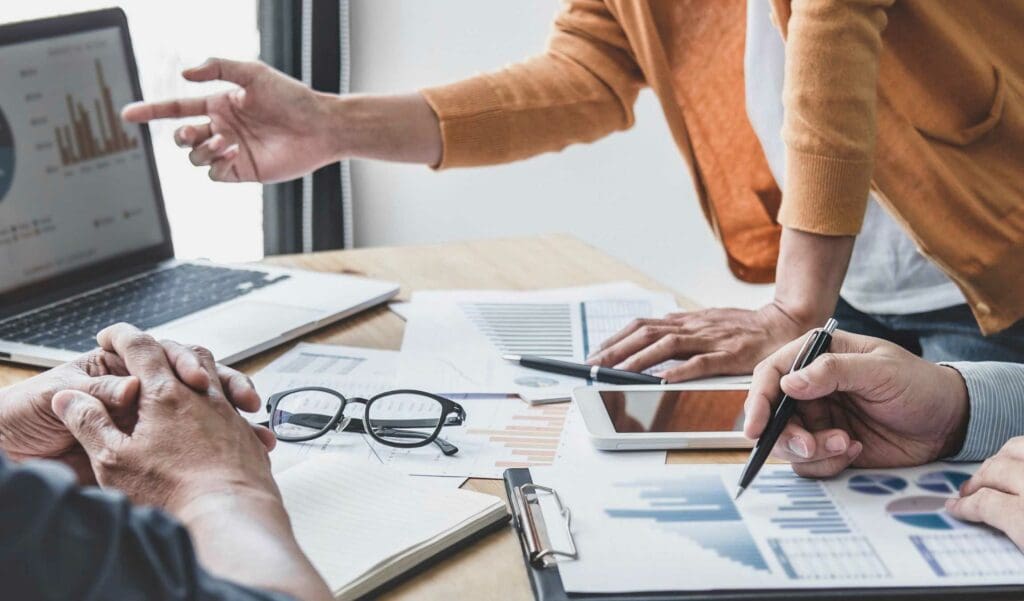 While the above discusses the overarching growth benefits of achieving Certification to the main ISO Management System Standards, each standard has their own individual benefits as well. Let's have a look at how each of the 4 main ISO Management System Standards can benefit your business:
In simple terms, ISO 9001:2015 is a set of requirements that organisations can implement to ensure they provide high-quality products and services. Globally recognised as the most popular management system standard, it enables businesses to achieve consistent performance and service, while meeting, and sometimes exceeding, customer expectations. ISO 9001 benefits include:
ISO 45001:2018 provides a framework for preventing and managing work-related injury and illness by identifying risks and opportunities to eliminate hazards and minimise risks. The standard assists organisations of any size, type, or industry in taking effective preventative actions to promote a safe and healthy workplace, while also effectively addressing legal and ethical concerns. The benefits of implementing an OHS Management System include:
ISO 14001:2015 helps organisations manage and improve their environmental performance throughout the entire life cycle of their activities. This is achieved by identifying and controlling impact, reducing resource consumption and waste, and promoting sustainable practices in operations in relation to how the organisation interacts with the environment. The benefits your organisation can reap from ISO 14001 are:
ISO 27001:2022 is a globally recognized Information Security Management System (ISMS) Standard that outlines the best practices and requirements for establishing, implementing, maintaining, and continually improving Information Security. It provides a systematic and structured approach to managing sensitive company information, ensuring the confidentiality, integrity, and availability of the information assets. The benefits of ISO 27001 include:
Now the question is, which ISO Standards are right for your business and how much do you want to see your business grow?
Achieving certification is not a simple process, and allowing professional ISO consultants to facilitate it for you will provide the peace of mind that everything is taken care of for you, from your initial discovery session, right up to achieving Certification. At ISO Certification Experts, we can even provide a Certification Readiness Guarantee!
Call us now on 1300 614 007, email us, or book a FREE Strategy Session to solve any further questions about the Certification Process, or to discuss a tailored solution for your business.
Brooke is the Marketing Coordinator and Content Developer at ISO Certification Experts and ICExperts Academy. She is responsible for all of the communications with our audience, including well-researched content across our website, blogs, social media channels, and email marketing. Her passion revolves around simplifying complex topics, helping prospective clients to make well-informed decisions with ease.
All information on this blog site is for informational purposes only. As this information is based on our professional experience, opinion, and knowledge, we make no representations as to the suitability of this information for your individual business circumstances. Especiality Pty Ltd trading as ISO Certification Experts and all related businesses and brands will not be liable for any errors, omissions, legal disputes or any damage arising from its display or use. All information is provided as is, with no warranties and confers no rights.
We will not be responsible for any material that is found at the end of links that we may post on this blog site. The advice, ideas, and strategies should never be used without first assessing your own personal business situation or seeking professional and/or legal advice. Information may also change from time to time to suit industry and business needs, requirements and trends.