How to set meaningful Environmental Objectives and Targets for ISO 14001:2015 requirements
Published on: December 20, 2022
A decade ago, donating to charity would seem enough for a company to check the "sustainability box". Nowadays, it has become a much more complex initiative, with businesses facing increasing pressure and expectation to integrate environmental and social best practices into their operations.
This movement is urged not only by alarming environmental devastation rates, but also by consumers, who are now openly expressing their concerns about businesses who aren't doing enough. To be precise, evidence shows that sustainability initiatives can, in fact, be profitable and create business opportunities. It builds a competitive advantage and enhances brand reputation, while attracting new customers, investors and even putting the business in the position to influence an entire industry positively.
There is a trap, though. As many organisations rush to catch up with sustainability efforts, plastering shallow initiatives on their marketing channels, consumers and other stakeholders have started to become wary of greenwashing. Greenwashing is defined as a marketing strategy that promotes misleading information to forge an environmentally responsible image. While the organisation might actually be taking part in some initiative, they may market it to seem like they are more environmentally friendly than what they actually are. Organisations that persist in treating climate change solely as a corporate social responsibility issue, rather than a business problem, will risk the greatest consequence.
One way businesses can avoid this, and consequently truly enjoy the benefits of a solid sustainable program, is by implementing the requirements of the ISO 14001:2015 Environmental Management System Standard. ISO 14001:2015 provides businesses with a framework to help minimise negative impacts on the environment through better management control. A crucial part of this standard is to define realistic and achievable goals. This blog will guide you on how to set meaningful environmental objectives and targets according to the ISO 14001:2015 standard's requirements to fully embed sustainable thinking and practice in your organisation.
What are the Objectives and Targets for ISO 14001:2015?
Clause 6.2.1 of ISO 14001:2015 states the organisation shall establish environmental objectives at relevant functions and levels, taking into account its significant environmental aspects and associated compliance obligations while also considering its risks and opportunities.
The environmental objectives shall be:
The organisation shall maintain documented information on the environmental objectives and, as per clause 9.1.1, monitor, measure, analyse and evaluate if the targets have been met.
The Objectives and Targets (O&Ts) will heavily depend on the industry. Some examples:
Note that for hazardous waste, businesses will need to demonstrate evidence, such as receipts, that they have sufficiently and effectively disposed of the waste. Auditors may ask for evidence that it has been disposed of properly during audits. Failure to do so may result in an Opportunity for Improvement (OFI) or even a Non-Conformance (NC) raised.
Above all, when setting your objectives and targets, it's important to be realistic. Consider how actions to achieve these objectives can be integrated into the organisation's processes and how feasible they really are. Failure to meet the targets, particularly in the first year of implementing the standard's requirements, can be very frustrating for the team and, of course, a failure in controlling the business environmental impact. By not setting overly ambitious objectives and targets, you'll have more chances to progressively build a solid sustainable program. It is also important to clearly define the responsible personnel for each objective and notify them of what needs to be done and how to achieve the objective effectively.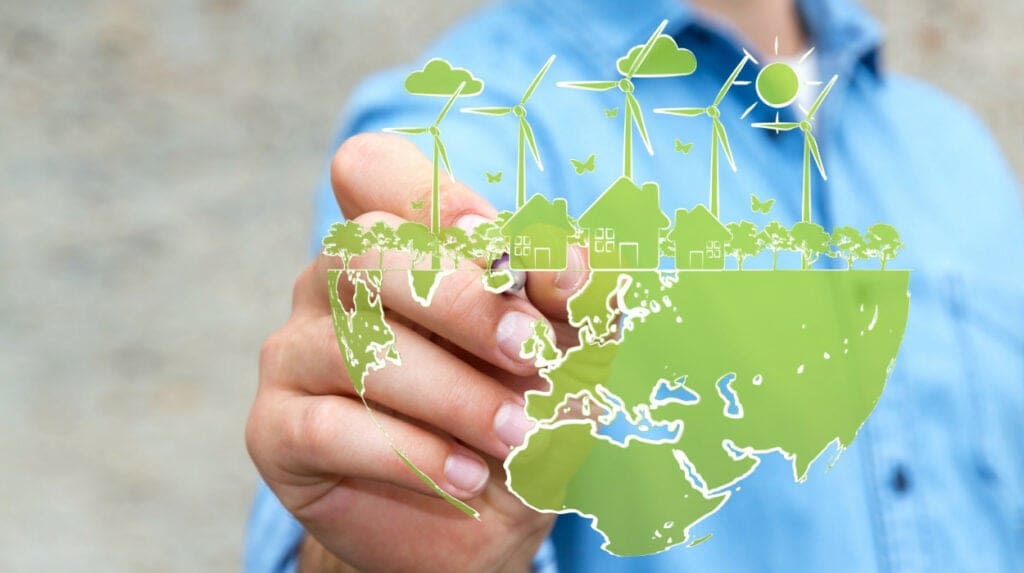 How to set up Objectives and Targets for ISO 14001:2015
We recommend that businesses develop at least three objectives, where the business should take into account the relevant functions and levels of the organisation, and consider its most significant environmental aspects and associated compliance obligations, as well as all risks and opportunities. Having at least three objectives will ensure that the business is actually making a difference, and demonstrates strong commitment to reducing their environmental impact.
The process of doing so consists mainly of two steps:
Step 1: Consider the life cycle of operations from beginning to end.
According to the ISO 14001:2015 Standard, the definition of life cycle is "the consecutive and interlinked stages of a product (or service) system, from raw material acquisition or generation from natural resources to final disposal. The life cycle stages include acquisition of raw materials, design, production, transportation/delivery, use, end-of-life treatment and final disposal."
In other words, analyse and understand how your services and/or products impact the environment, at all stages, so meaningful objectives can be set to address them.
Step 2: Develop and implement the environmental objectives and targets.
As mentioned above, these must be measurable and checked during the Internal Audits and Management Reviews to ensure they are still being actioned, met and reported.
Some key areas for consideration when developing meaningful objectives and targets could include:
| Ecosystem Impacts | Human Impacts | Resource Depletion |
| --- | --- | --- |
| Climate change/carbon emissions | Depletion of the ozone layer | Fossil Fuels |
| Acid Rain | Smog | Water |
| Eutrophication/nutrient run off | Particulate pollution | Soil |
| Land use change | Carcinogens | Forests |
| Waste disposal | Toxicity | Grasslands |
Expert Tip
Complete an "Environmental Aspects and Impact Assessment". Similar to a risk assessment, only with a focus on sustainable practices, this will help the organisation identify, predict, evaluate and mitigate potential environmental impacts on natural resources such as water, air, soil, flora and fauna before committing to major decisions.
Can businesses rely on carbon offset programs in their Objectives and Targets?
One of the most popular and widely recognisable ways businesses can take environmental action is by reducing their carbon footprint, whether it be by internal measures, or by association with third-party companies.
A carbon offset or
carbon neutral program
is one way to neutralise the emissions of carbon dioxide or other greenhouse gases by compensating for the emissions elsewhere – for example, by being associated with a "plant-a-tree" program. You can
read more here
about this topic.
Organisations that rely solely on carbon offset programs, without promoting any internal change, risk being caught in the greenwashing spectrum. Ideally, the carbon neutral program should be aligned with other internal measures. These could include: promoting reuse/recycling programs, reducing packaging use within the business, encouraging and enabling employees to commute sustainably, using a green energy provider, installing solar panels, using recycled paper, minimising printing hard copy documents, and reducing fuel consumption, just to name a few.
When including the carbon offset initiative in the Objectives and Targets, the business should:
Note
If the business gets satisfactory results, they can also look to obtain a Carbon Neutral Certificate, which can be displayed on their website, social media, and any other marketing materials. According to https://carbonneutral.com/ Carbon neutrality is achieved by calculating a carbon footprint and reducing it to zero through a combination of efficiency measures in-house and supporting external emission reduction projects.
Along with achieving Certification to the ISO 14001:2015 Standard, this is a great way to demonstrate a businesses extra efforts to contribute to sustainability.
If you don't aim to become a carbon neutral organisation, you can instead get involved in a number of other programs. For example, by involvement in a Plant-a-tree program, you can help grow critical habitats for endangered wildlife, and help restore native biodiversity and rejuvenate degraded landscapes. Another option is to become involved in one of the carbon offsetting programs to reduce your impact and/or offset your emissions. Alternatively, you can become involved in conservation programs to protect established environments.
We can assist you to understand which environmental objectives and targets are right for your business and industry, and help you develop an effective plan to integrate sustainable practices into your Environmental Management System. Call us on
1300 614 897
,
email
us or
book your online FREE strategy session
to find out more.
Ivona has been developing and implementing customised management systems for our clients across a wide range of industries, to meet the certification-readiness requirements of ISO 9001, ISO 14001 and ISO 45001. She is also an internal auditor, and has a Master of Business Administration and a Diploma in ISO Integrated Business Management Systems. She's also passionate about sustainability and the environment.
All information on this blog site is for informational purposes only. As this information is based on our professional experience, opinion, and knowledge, we make no representations as to the suitability of this information for your individual business circumstances. Especiality Pty Ltd trading as ISO Certification Experts and all related businesses and brands will not be liable for any errors, omissions, legal disputes or any damage arising from its display or use. All information is provided as is, with no warranties and confers no rights.
We will not be responsible for any material that is found at the end of links that we may post on this blog site. The advice, ideas, and strategies should never be used without first assessing your own personal business situation or seeking professional and/or legal advice. Information may also change from time to time to suit industry and business needs, requirements and trends.